How We Make a Difference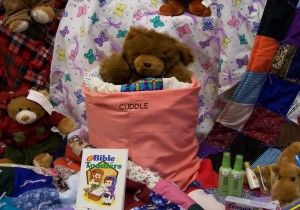 Imagine starting everyday aware that you may not sleep in the bed you left this morning and may find yourself in yet another stranger's house…Imagine not living with anyone who knows you…Imagine never returning to your family or the house that you left them in…Imagine life alone at the age of 2,6 10 or 16 with nothing that is yours. Over 19000 children in Arizona face this prospect every day.
When children are picked up from abusive situations, they are transported in the condition they are found. There is no time to pack a bag of their belongings. The children are taken to a place they have never been and left with complete strangers, they are frightened and confused.
Becoming more aware of the situation these children are put in, I kept coming back to the question "How do I reach these children and help them in their circumstance?" God placed upon my heart a desire to help hurting children know they are not alone. In 2001 C.U.D.D. L.E (Children Under Duress Divinely Loved Everywhere) Outreach was created. We design and produce a large handmade bag that is used to hold all of the wellness kits supplies.  The supplies include:
a handmade quilt
a washcloth bag filled with toiletries (soap, lotion, shampoo, conditioner, comb, toothbrush and toothpaste, deodorant; baby oil, shampoo, lotion and soap);
stuffed animals
a children's illustrated Bible
All these items are placed into the handmade bag and shipped though UPS to the Department of Child Safety, group homes, and crisis centers across the state of Arizona. The C.U.D.D.L.E. Wellness Kit is given to a child and will remain with that child. We have made and delivered over 17000 wellness kits in the past 20 years.
Help us show abused children that they are loved and remembered. We need your help to make it happen.
Linda Dodds – C.U.D.D.L.E. Outreach Founder