How We Make a Difference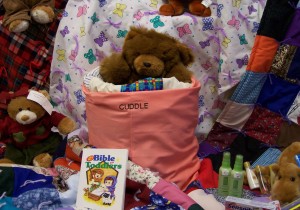 When children are picked up from abusive situations they are transported in the condition they are found, there is no time to pack a bag of their belongings. The children are taken to a place they have never been by complete strangers; all that is familiar to them is suddenly taken from them, leaving them frightened and confused. Their fear can be soothed through the C.U.D.D.L.E. Wellness Kit which they are given to keep. We have produced and distributed over 12000 Kits in the past 17 years through the generous donations of caring people like you. One person can't stretch her arms out far enough to embrace all the children who need to be held; but a community of people, working together, can reach everyone of them with comfort and hope.
Help us show abused children that they are loved and remembered. We need your help to make it happen.
Linda Dodds – C.U.D.D.L.E. Outreach Founder